SimpleEye provides solutions and software that help you learn more about your health. With the recent explosion in interest and availability of medical devices that measure physiological vital signs, we saw that there was a need for a suite of software that allows simple and secure collection of information as well as identification of healthy trends so you can get better and stay better.
Team
Femi Omojola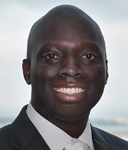 Femi Omojola has over a decade of experience designing complex software in a wide range of fields including RFID and mobile supply chain management, embedded systems and multi-platform desktop, browser and mobile software. Previously Femi led engineering development for United Villages, Inc., a venture funded startup with major operations in India and Cambodia, and at VehicleSense Inc. exploiting patented technology in projects for the Department of Transportation and the Federal Highway Administration. He obtained his S.B. and M.Eng in electrical engineering and computer science from the Massachusetts Institute of Technology and is a former research assistant in the Physics and Media Group at the MIT Media Laboratory.
Advisors
Ayo Omojola

Partners
Ashametrics
Ashametrics develops and sells mobile phone software and innovative sensor hardware for the mobile health market. Ashametrics sells to end users and researchers, and also partners with OEM suppliers to provide custom solutions for niche markets. Ashametrics is active in the global health as well as domestic market and has extensive experience with mobile phone applications, server-side development, wireless electronics and biomedical sensors.